For Immediate Release:
November 16, 2023
Contact:
Brittney Williams 202-483-7382
Washington – A special delivery is on its way from PETA to newlywed Marine Sgts. Eduardo Del Pozo and Regan Mast—along with their adopted German shepherd puppy, Daisy: a big basket full of delicious vegan dog treats, a special holiday gift just for Daisy, vegan chocolates for the happy couple, and more. The trio made headlines this month when the couple showed up at the local animal shelter in full wedding attire, having rescheduled their wedding at the last minute to ensure that they would be first in line to adopt 4-month-old Daisy.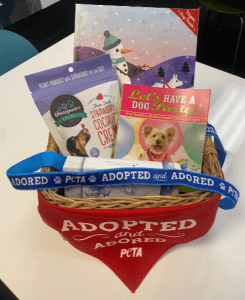 PETA's gift basket includes Strawberry Coconut Cream Organic Vegan Dog Treats, an "Adopted and Adored" dog bandana and leash, and a Happy Pawlidays Vegan Dog Treat Advent Calendar to help Daisy celebrate her first holiday with her new family. And for Eduardo and Regan, it includes a Snowy Treasures Vegan Chocolate Assortment, a copy of Let's Have a Dog Party! 20 Tailwagging Celebrations to Share With Your Best Friend by Ingrid Newkirk and America's Test Kitchen's  Vegan Cooking for Two: 200+ Recipes for Everything You Love to Eat, which provides quick and easy vegan recipes for breakfast, dessert, and everything in between.
"This young couple showed the true meaning of love by upending their own wedding to adopt a dog and provide her with a safe home," says PETA Senior Vice President Colleen O'Brien. "PETA wishes Eduardo, Regan, and their beloved Daisy a happy furever after and encourages everyone touched by their story to always adopt and never buy from breeders or pet stores."
PETA—whose motto reads, in part, that "animals are not ours to abuse in any way"—opposes  speciesism, a human-supremacist worldview. For more information, please visit PETA.org, listen to The PETA Podcast, or follow the group on X (formerly Twitter), Facebook, or Instagram.