One of the most stressful elements of wedding prep centers around the pressure to look your best for the big day, even if you typically have a simple beauty routine (or none at all).
You might be considering beauty treatments that run the gamut from lash and brow treatments to facials or even Botox and fillers. Most of these sound simple enough, but they could wreak havoc on your skin, which is the last thing you need a week before your wedding.
So what should you avoid a week (or even a month) before your wedding? HuffPost spoke to a dermatologist and an esthetician to find out.
"You never want to try something new as you approach a special event, especially your wedding day. If you're curious about trying something new, schedule it well in advance so you can see how your skin responds," said Dr. Deanne Mraz Robinson, a board-certified dermatologist and co-founder of Modern Dermatology of Connecticut.
The Big, Basic Rules
"The No. 1 rule is: Don't try anything new [within] a month before your wedding! This could turn into a disaster," said Jenette Serrins, the owner, founder and developer of Jenette Skin Care.
"I have seen this firsthand and had to try to reverse and heal the damage that some of these treatments caused right before the big day," Serrins added. "There is always a chance of burning, bruising, breaking out, swelling and even broken capillaries with some treatments, especially when trying them for the first time."
It's not just about the treatments you do, though. Your skin may be looking more stressed as the wedding approaches. Why? Stress, even when mixed with excitement, makes the body release cortisol and adrenaline, known as the stress hormones.
"These hormones can set off an inflammatory response in the body, including the skin, that make your skin more reactive, sensitive and irritated. It's not a good time to try something new," Mraz Robinson said.
Serrins said, "For my big day, I get monthly facials at my own skin care boutique/spa and choose a detoxifying treatment that includes a steam clear out and a brightening, lifting and hydrating mask treatment."
Mraz Robinson creates a specific plan for brides-to-be, including treatments like lasers and facials. The plan includes skin care as its basis: "This is the foundation. Planning for a big event is the perfect motivation to clean up your skin care routine and commit to consistency," she said.
Depending on your needs, the base of the plan includes a cleanser for your skin type, retinol/retinoid/bakuchiol (or chemical exfoliation with Alpha Hydroxy Acids, or AHAs), antioxidant serum, moisturizer and SPF 30 or more.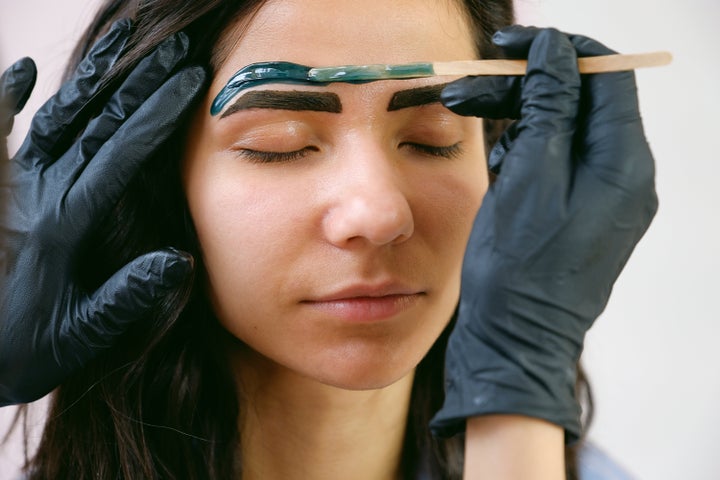 Treatments You Should Be Careful With
Fillers and neurotoxins like Botox should be done at two to three months and four to six weeks in advance, respectively, Mraz Robinson advised. You need to give enough time for them to settle and be able to tweak them if needed.
Start your facials early and have the last one scheduled for two weeks before your wedding. "Regular facials are a great way to clarify and nourish the skin. They may bring up any impurities to the surface that result in a post-facial breakouts," Mraz Robinson said.
Chemical peels can trigger redness, swelling, inflammation and peeling that take time to recover. As with the facials, a pre-wedding schedule should be followed, Mraz Robinson advised.
Dermaplaning can cause breakouts and irritation, so don't leave it to the last minute. This can be started up to six months before the wedding, every two months until one to two weeks before the wedding.
"The week before your wedding, please avoid sunbathing or laying in a tanning bed," Serrins warned. "This can cause sunburned, blotchy and red skin on your big day."
If you're interested in lash treatments or facial waxing, Mraz Robinson said you should try those at least one to two weeks in advance to see your skin's reaction. "The eye area is super sensitive and very reactive and many lash glues can irritate. Facial waxing can cause irritation, redness and breakouts," she said.
The Ideal Timeline, According To The Experts
6-Plus Months In Advance
Start a consistent morning and evening skin care routine.

Start getting regular facials.

LED sessions

Brightening peels with ingredients like vitamin C, lactic and kojic acids

Chemical peels (these can be done every two months leading up to the wedding)

Dermaplaning (this can be done every two months leading up to the wedding)
1-2 Months In Advance
Fillers can be done two to three months before. "Choose hyaluronic acid-based fillers, which can be reversed if needed," Mraz Robinson advised.

Botox or other neurotoxins can be done no sooner than four to six weeks before your wedding.

Lasers
2-4 Weeks In Advance
Your final chemical peel

Microneedling

Your final facial
1-2 Weeks In Advance
Dermaplaning

Facial waxing

Lash lift and tint

Hair cut and color
1 Week Before
Brow shape and tint

Keep up with your daily morning and evening skin care routine.

Drink plenty of water and eat healthy, nutritious food.

Focus on good sleep and swap your pillowcase every other night.

A Hydrafacial can be done one to two days prior, according to Mraz Robinson, "provided you've tried it before and tolerated it well! It's a gentle, nourishing treatment that will instantly hydrate the skin and plump up fine lines for a glowing complexion."
1-2 Days Before
Nails (manicure and pedicure)

A steam room and sauna